1968-1971: The Duby Years

This

page is light on images and sounds because I really don't have but a couple of photos, and few recordings.


But, as they were somewhat dark years in terms of judgment and success, perhaps that's appropriate...

I arrived in Lawrence, Kansas in the Fall of 1968, a National-Merit-finalist freshman at K.U. at the tender age of sixteen.

I lived at

Battenfeld Scholarship Hall

, which housed around 50 guys identified as smarter than average and deserving of some kind of financial assistance. Each man/boy was expected to do some work in the house in exchange for the privilege of living there.

Michael Duby

At the same time, my father was also at K.U. getting his Masters in Social Work. One of his fellow students, Beth Duby, lived across from Memorial Stadium on Mississippi Street with her four children, Michael, Lana, Lisa, and Mitch. About November, I received a call from Michael Duby.

At first I thought it was a woman calling, because his voice was so high. He was looking to start a band, and was I interested? He wrote a lot of songs, he said, and needed a guitar player to collaborate with.

So, I went over there. Michael was nothing like I had pictured him. He was tall (my height), wiry, with long hair and a beard. He was full of nervous energy which, at least to me, was hard to resist. This is an odd fact because a lot of people - especially males - simply couldn't stand him, but he was really an entertaining guy, whether you liked him or not.





Here's the only photograph I have with Michael Duby, probably taken in Spring of 1969, on someone's birthday.

It was badly damaged by water years ago.
From left: Mitch, Lana, Michael (with cat), Andy, and Lisa (obscured by damage).
And, yes, Michael was

trying

to look foolish for the photo.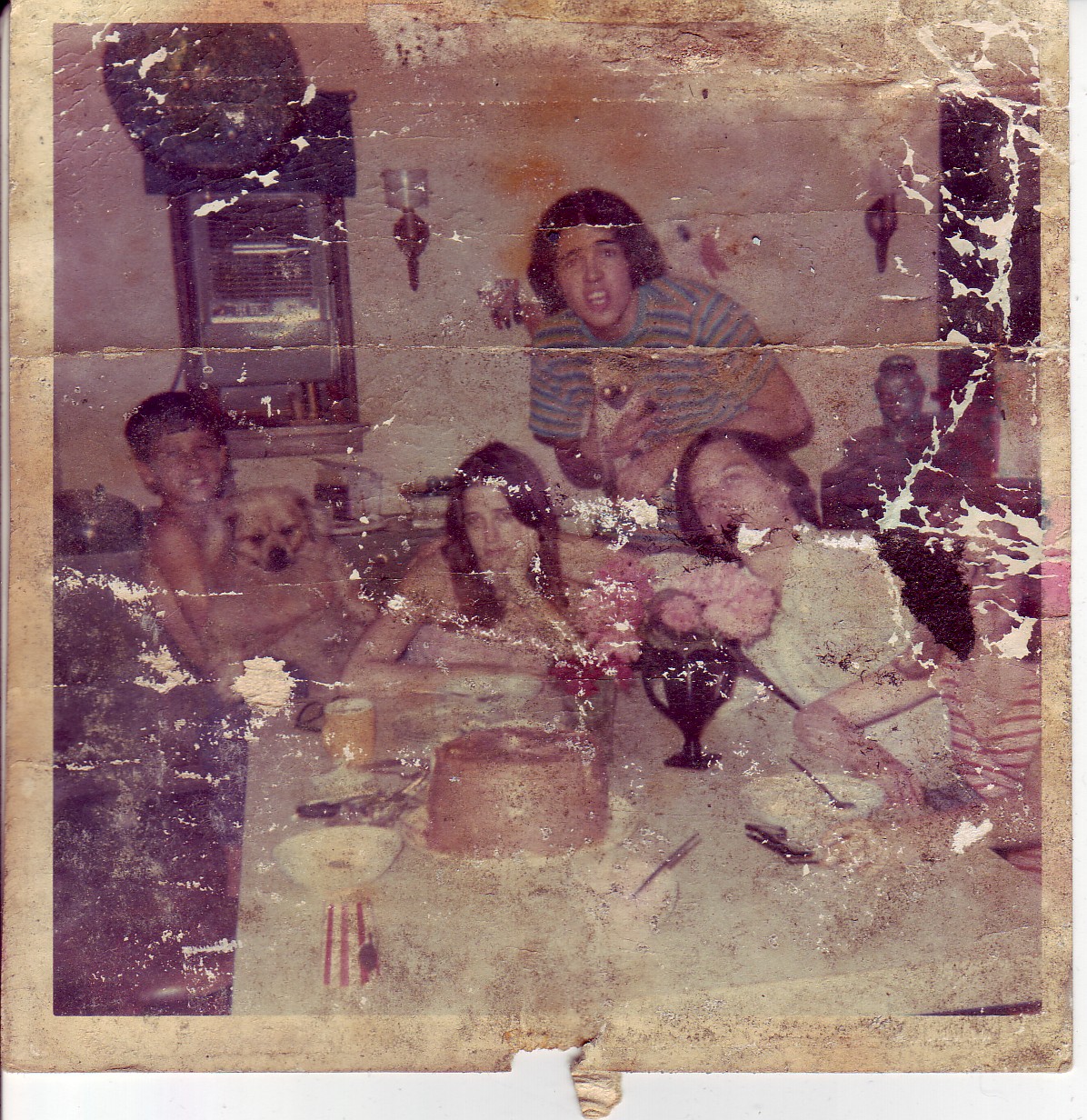 Michael was playing bass, and he was, well... not good at it. He had a very distinctive voice but was not a good singer. One of his main singing influences was

Marty Balin

of

Jefferson Airplane

, if that tells you anything.

But what else did I have to do? I began to spend a lot of time, and eating a lot of dinners, at the Duby house. Michael and I would spend some time playing the same set of songs. I don't think we got a whole lot better, because we really didn't have a clue about the deconstruction of recorded music and playing in a group. We just banged away.

He had an almost-unplayable

Teisco Del Rey

bass guitar and a solid-state Silvertone amp with six 10" speakers and a baffle made of fiberboard. My amp was a Lafayette P.A. amp with a homemade speaker cabinet. If memory serves, I withdrew about $175 from my college savings account over Winter break, unbeknownst to my parents, and bought a

Univox hollow-bodied electric guitar

by mail order.

I believe we played a few gigs that spring (1969), with a variety of drummers Names that come to mind are John Toda, David Estes, and Walt Riker. One drummer we liked was Bobby Mansfield; I think his first name was Bobby, and I

know

his last name was Mansfield. We called ourselves

The Mournings After

(great name, huh?), and we would rent a trailer and pull it with the Duby's 1960 Ford Fairlane. The gigs were high-school dances, and I'll bet those students wondered who in the hell decided to hire US.




For a couple of those gigs, we managed to get Bud Pettit to play drums. He was by far the best drummer, and played with the power we needed to keep us together. Buddy would play a large part in my musical career.

Cementing my relation with Michael was the fact that I developed a romance with his sister, Lana, who was a student at Lawrence High School (the Chesty Lions!), in the Spring. I didn't do as well in my classes that semester; this National Merit Finalist actually flunked a course.

I did go back home, to San Antonio, in the Summer, where I had a temp civil-service job at

Brooke Army Medical Center

. This is where the Army had its burn unit, and I saw some crispy critters who'd been flown in from Vietnam.


Drugs


The Summer of 1969 was when I began my career in drug-taking as well. My sister and her friends had been taking LSD for some months, and she persuaded me to try it. It was a huge experience for me, and I was convinced for a while that it was the key to solving the world's problems. Hey - I was 17, okay?



Making a choice


Over the Summer, my mother discovered my unauthorized withdrawal with which I had bought the Univox guitar. She blew a gasket about it and cut off funding for college. At the time, as well, my stepfather, Mike, had received orders for Japan. The family wanted me to go to Japan, but I was stubborn and had been bitten by the sex/drugs/rock-and-roll bug. I insisted that I would return to Lawrence in the Fall, and I did. In retrospect, I missed out on a great experience. Ah, youth.



Amerikan Mercury


I was out of Battenfeld Hall, but Michael Duby had arranged a rental house a few doors down from the Duby house, on the southeast corner of 11th and Mississippi (the house is no longer there). $75 a month, payable to Danna Santee, the Duby's next-door neighbor and landlady, and wife of Olympics medalist

Wes Santee

. The house had three rooms plus kitchen and bathroom on the first floor, and one large room upstairs. It would double as a band-rehearsal house.

Our band was now Amerikan Mercury. After importing a Led-Zeppelin-fanatic guitar player from Chicago who didn't work out, we found Ron "Jamie" Joler to play lead guitar. He had a Gibson 355, and his favorite guitarist was

Terry Wierman

of the

Fabulous Flippers

. Our drummer, Tom Burch, was from Fayette, Missouri. Tom and I would drop acid or mescaline and stay up all night listening to Cream "Wheels of Fire." We also had a female singer, a townie named Sandy Binns who, to our ears, did a bang-up job with Janis Joplin numbers. Michael had procured a 1960 Oldsmobile ambulance to haul us to gigs, and, even though the thing hardly ran and blew tires left and right, we painted our band name on the back windows and thought we were traveling in style.

During this time, I procured a

Fender Jaguar

guitar. Not a good guitar for the thick tones of the psychedelic-music era, but it was definitely the best guitar I'd owned to date.

I had enrolled in the Fall, majoring in Music Education, but I just quit going to class at some point, and as a result received 14 hours of F. As my wife once said, "Smart people are stupid."


Failure; Moving in with Dad


In January, I ran out of money, and the electricity was shut off. I put my [pipe] dreams on hold and moved in with my Dad and his new wife, Thressa, in Overland Park. I got a job running the

Toddle House

at 63rd and Main in

Brookside

(that building is now an insurance office) on the graveyard shift, from 10:00 PM to 6:00 AM. I took a couple of summer-school courses at Johnson County Community College. I also tried out for and got the leading male role (Tony) in Johnson County's "Theatre in the Park" presentation of the musical comedy "

The Boy Friend

." Thressa was an English teacher at Shawnee Mission Northwest, and she got me to come to her classes and give a presentation on the history of rock music, as well as judge debates a couple of times.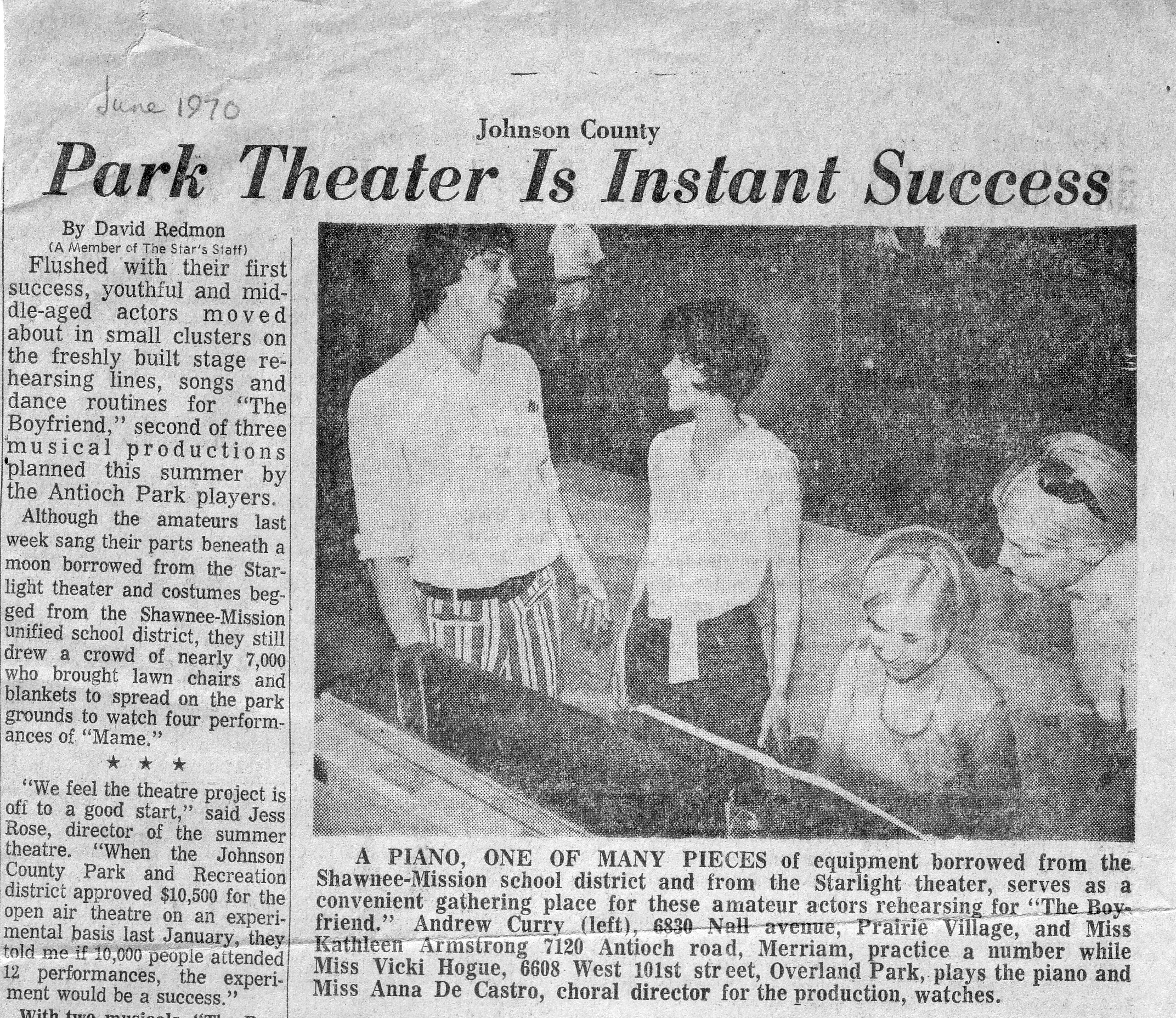 My sister Elisabeth was a freshman at K.U. at this time, and her dorm buddy, Karen Lundmark, had a high-school boyfriend - Doug - who played drums in a rock band called

Back Forty

in Leawood. They had a guy who played a

Farfisa organ

and a Rhodes keyboard bass, but they wanted a bass guitarist. So, I rehearsed with them and played one gig, at St. Mary's in Atchison. I remember singing "Easy to Be Hard" on top of a PA speaker at that gig - I was Mister Dynamic Performer! One perk from playing with these guys was that, for some reason, I got to borrow a

Fender Precision bass

AND a drum set for the summer. I kept these in my room in my Dad's basement and played them quite a bit. I sold the Fender Jaguar guitar to an old country-and-western guy for $100. The Jaguar is not a rock-and-roll guitar...


Try again


But Lawrence and Michael Duby were calling me, and I listened. I moved back to Lawrence, initially living in an apartment more or less paid for by Michael and/or Danna Santee. We got Doug, from the Leawood band, to play drums. In 1970, the Musicians Union provided a rehearsal hall, which was the building in North Lawrence known as the

Teepee

. Several bands, including ours, used the hall. In guitars, I moved up to a 1960 Stratocaster with a gold-metal-flake refinish job. Bought it for $175. Michael had moved up as well, to an old

Gibson EB-0

bass.

Michael put an ad in Rolling Stone magazine and, amazingly enough, got a bite from a guitarist in Los Angeles named Jerry Zaremba. I doubt that this could be the same guy that played

Eddie Cochran

in The Buddy Holly Story, as Jerry was 24 years old in 1970. Jerry came from L.A. on the train. At our first rehearsal, two things immediately became obvious: One was that Jerry was an excellent guitarist, and the other was that he was extremely dismayed at having come all that way to play with losers. He almost cried.

We persuaded him to stay for a while, perhaps because we didn't have the money to get him home. I'm glad he did. During his stay, he and I spent a lot of time jamming, with me playing bass. We also listened to a lot of records, and he deconstructed the songs and explained how all the parts fit together. It was my first real understanding of the importance of arrangement in group music. Then we would drop acid and drive fast through underground parking garages in my Volkswagen bug. Eventually, we ponied up the money for his trip back to L.A., and Doug dropped out of the picture as well.


Sun, Son


I moved into the second story of a house at 1104 Tennessee, where my sister and her boyfriend,

Jim Croft

, were living. In the Winter of 1970-1, I had my first significant job on bass guitar (using Michael's EB-0), playing for free for a rock musical called "Sun, Son" presented by the K.U. Theatre Department. I still have the record, and I remember putting in lots of hours analyzing bass lines to play. I wasn't too smart about the sound of the bass: I used a bass-boosting stompbox with an EB-0, whose sound is notoriously muddy to begin with.




Here's the album cover for "Sun, Son." In those days the musicians didn't get their names on the album cover.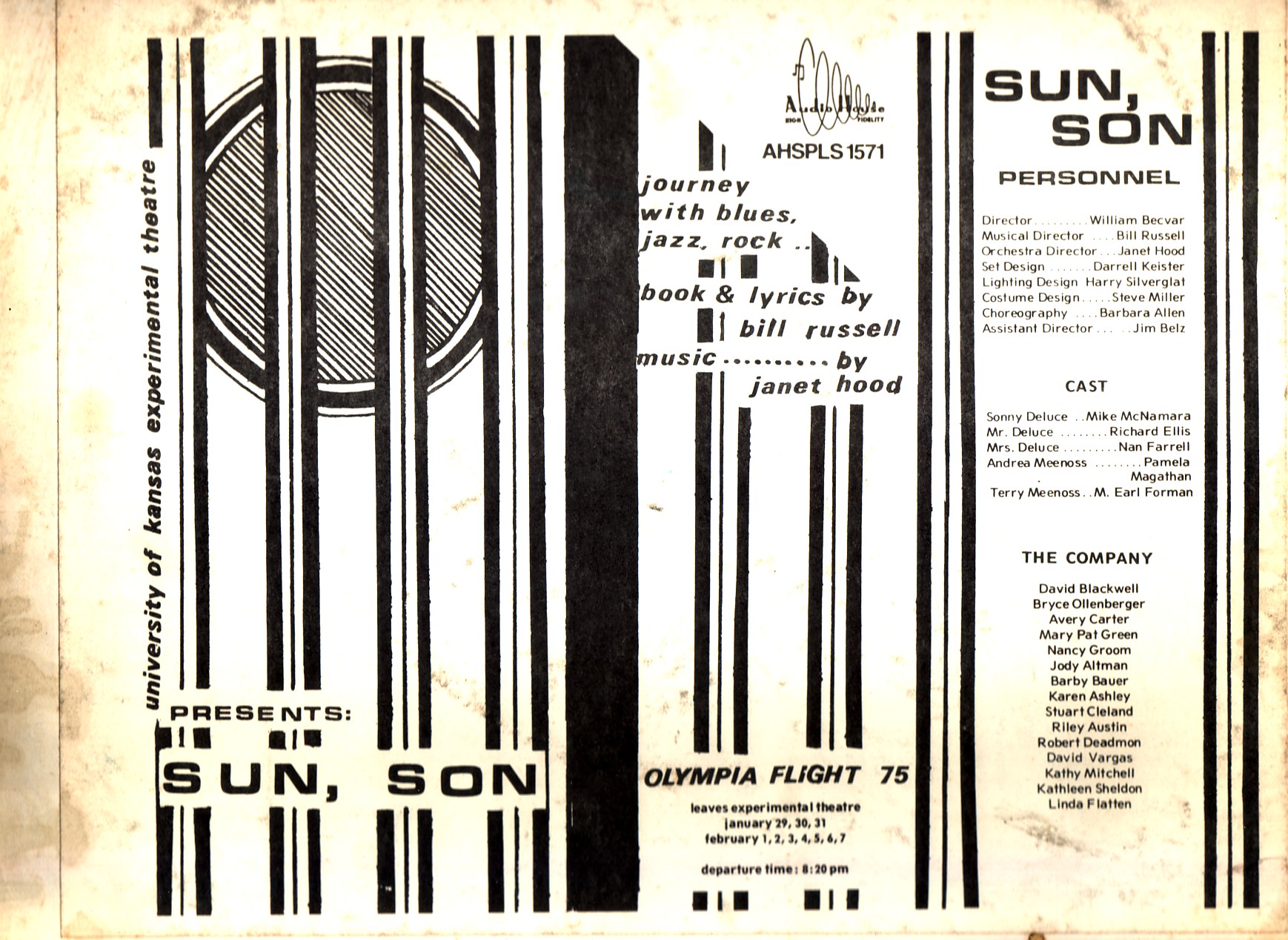 Here are some songs from "Sun, Son." As I listen 36 years later, I'm impressed with the music, if not all the singing. And my bass parts are actually pretty good for a 19-year-old bass newbie!
The Ultimate Trip
Ju Ju Ga Ga Bamba
Peace
Rhythm
I Am Sun
Gettin' It Straight With Jesus and His Pa
Doin' Drugs
Be All Right
The Relievin' Your Grievin' Rag

I googled for Janet Hood, the music writer, director, and pianist, and found that, apparently, she has collaborated with the lyricist, Bill Russell, more recently and notably! Look here.
And here. Further googling finds that Janet Hood had a duo act a few years later called Jade & Sasparilla. I had a real crush on her...

During this time, I was living on
white crosses
, pancakes with wheat germ, and milk. I had no job and virtually no income. But it was then that I was introduced to the "real" blues with a
Howlin' Wolf
album called "
The Real Folk Blues
." A revelation for me. I had listened a lot to Chuck Berry's Chess hits in high school, but the Wolf represented to me a religiosity of the blues, for want of a better phrase.
Speaking of Howlin' Wolf: I think it was 1971. I heard that Howlin' Wolf was going to appear at Memorial Hall in Kansas City. Michael and I, and probably some other people, went to see him. There may have been 200 people there, at most, in a place designed to seat thousands. The Wolf was not happy, and you sure could tell it. But he had his fine band, including Hubert Sumlin, and I enjoyed it greatly.

In the early part of 1971, the hippie who lived in the attic dropped some acid, lit some candles, and went out walking in the snow in his underwear. The candles started a fire, and I woke up early in the morning to firemen calling out for anyone in the house. The house was torn down, and it was time to move on...
Here's a photo of my sister Elisabeth, and me, which we had taken as gifts for the folks in late 1971. Not exactly warm and fuzzy, is it?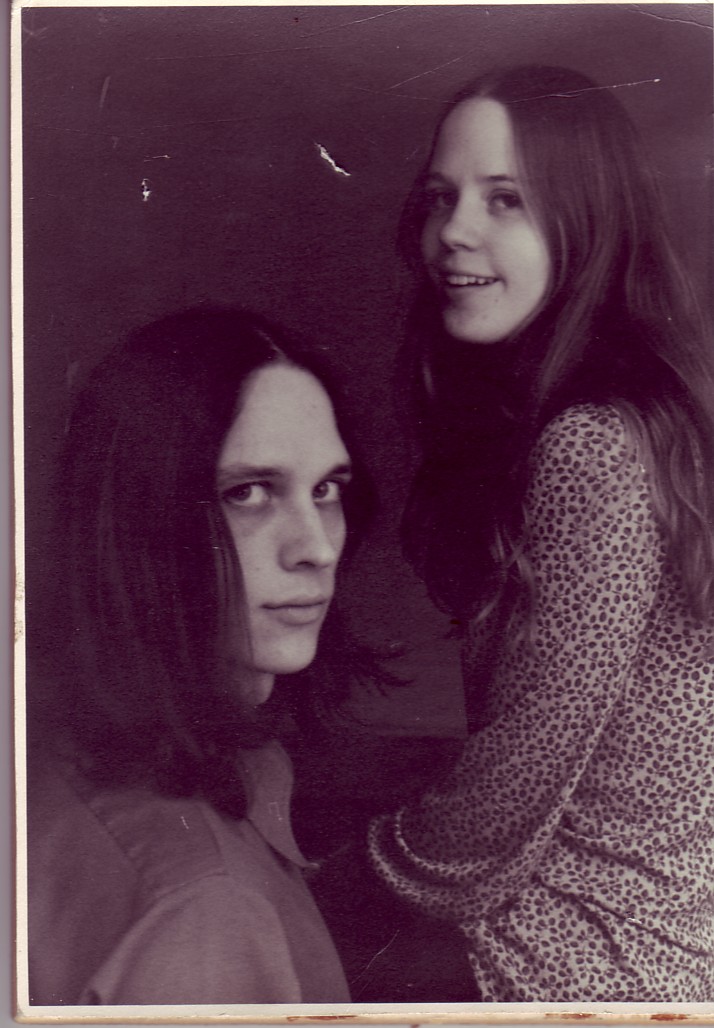 Copyright 2006, 2019 by Andy Curry