The Richmen Express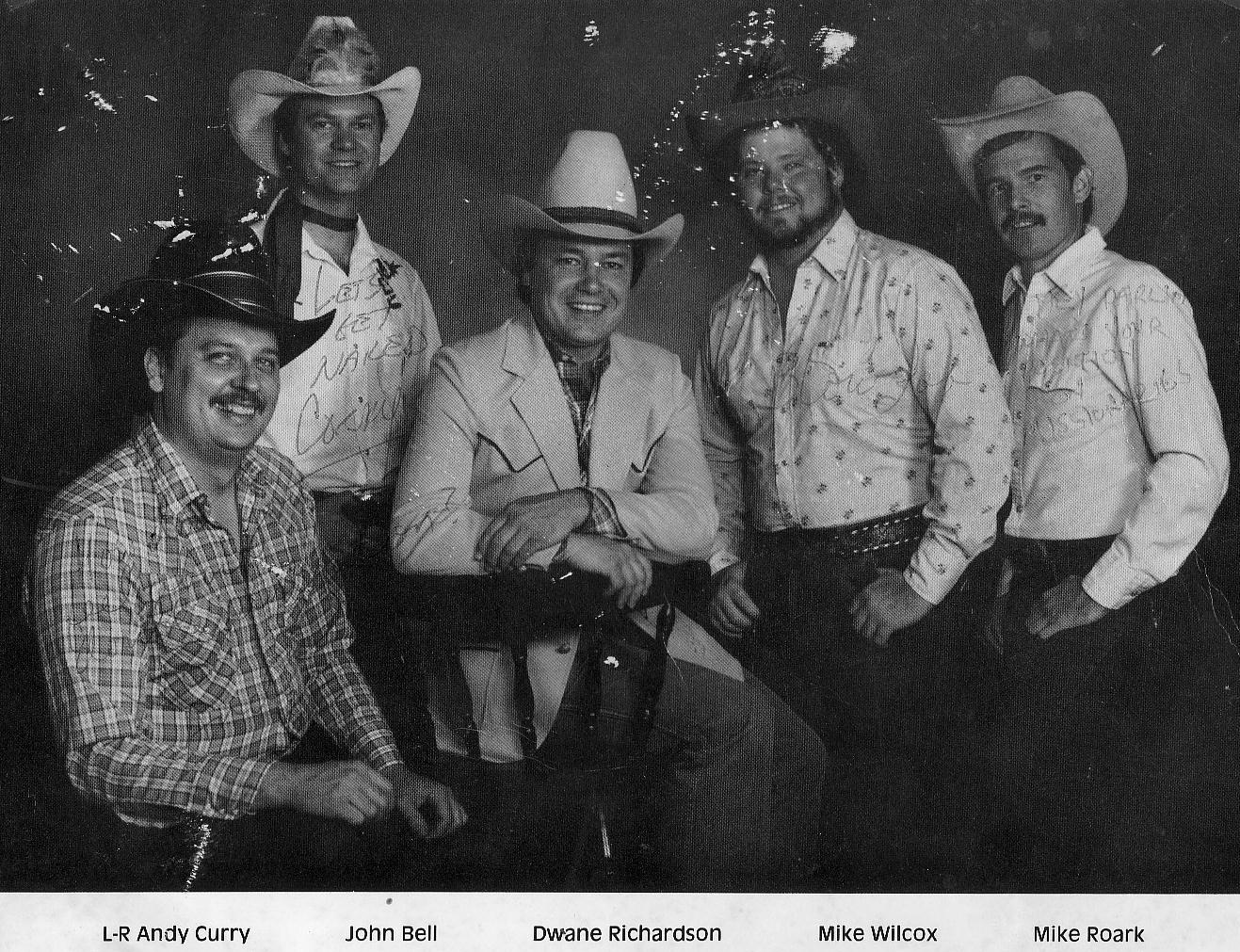 The Richmen Express was Dwane Richardson's band. Dwane is the son of Dewey Richardson, a Eudora man who established and owned Richardson's Music until he sold the business to Richard Petrovits.

Dwane sang and played acoustic guitar and tenor saxophone. I googled for Dwane and found some recordings of him singing with the Dewey Richardson Band at a folk festival in 1963.

I first got together with Dwane in 1974, when I was cooking at the Village Inn Pancake House on Iowa Street in Lawrence, after I'd come back from my 10-week stint with the Lee Stover Trio. I had nothing going on musically at the time. Bob Case, on pedal steel guitar, and Michael Roark, on drums, formerly of the Billy Spears Band, were playing with him at the time; I don't remember whether Bob or Michael approached me to join. My only memories of that stint in the Richmen Express are of playing at Charlie Hall's Golden Horseshoe. The Horseshoe was on US 75 on the south side of Topeka. It had two rooms: One was the dance hall, where we played, and the other was the bar, where "exotic dancers" took their clothes off. We always enjoyed it when our favorite dancer, Charlotte, came in and danced to our music. Read what Kliph T. Scurlock of The Flaming Lips has to say about the Golden Horseshoe here.

We played country and western music: Songs from the likes of Ray Price ("For the Good Times", "Pride"), Jim Stafford ("Rub It In"), Charley Pride ("Kiss an Angel Good Morning"), and Charlie Rich ("Behind Closed Doors"), as well as some rock-and-roll songs which were de rigeur (Proud Mary, Burnin' Love, etc.), and some pop songs featuring Dwane's sax playing, like "Yakety Sax," "Beer Barrel Polka," and "Tennessee Waltz."

In late 1974, Billy Spears decided to quit his job at the K.U. Student Union and play music full time. Bob, Michael, and I left Dwane to help Billy follow his dream. Unfortunately, I have no photos or recordings of the Richmen Express at that time. However, I do remember that we traveled to a Kansas City recording studio, run by former TV weatherman Don Warnock, to make a record with Dwane.

Fast forward to 1979. The Billy Spears Band was done while Billy convalesced from his broken neck. I was involved with Used Parts, but that was always a part-time thing. Dwane had never stopped gigging, and apparently he needed a bass player again. Mike Roark was back on drums, and the other member was now John "Corky" Bell on lead guitar. I played with this band for almost ten years. It was strictly a weekend band, as everybody had day jobs.

You may wonder how Michael played drums after his right arm was so badly injured in the bus accident of 1975. He put a drumstick in his right hand and wrapped the hand with an ace bandage. Even with this handicap, he was a pleasure to play with. If a drummer has great time and a good ear, everything else falls into place.
Here are some cuts from a gig played in July of 1980. I'm not sure where we were, but I'm guessing it was the Knights of Columbus in Lawrence.
In the early eighties, a fifth member joined. He was Mike "Rerun" Wilcox. The nickname "Rerun" came to be, I'm told, because he played bass like me! Rerun also played rhythm guitar and was a fine singer. With him, we were able to do some good three-part harmony as well as some "oldies" shtick. In addition, Roark got to sing the novelty songs, like "Elvira." Corky even sang one (the Big Bopper song "Chantilly Lace").

We played Knights of Columbus, VFW and Elks Clubs, weddings, anniversaries, barn dances, and a few large taverns. We never played more than two nights a week, but we were together for so long that I can say we played a LOT.

As was generally the case with any band, we sometimes needed a sub. Sometimes, especially during Corky's annual fishing trip to Montana, Jeff Brahler played guitar. Sometimes it was Mike Poholsky (who played with Jim Stringer in the Novellas) on pedal steel. John Lomas sometimes played. A couple of times, Dewey Richardson himself filled the bill. Bud Pettit played drums a time or two, and an old gent named Harold Green played drums for a couple of Christmas parties at the Golden Ox in KC. When I was unavailable, Rerun played bass. I remember at least once when Richard Petrovits filled in for me.

And then, during the Country Playhouse era of the Billy Spears Band, I was playing with Billy again. During those times, Mike Wilcox was the bass player for Dwane and the boys.

For a time around 1983 or 84, a guy named Larry Shortt kind of tried to insert himself in a management/publicity role with the band. In fact, the publicity shots on this page were taken during his realm. Larry Shortt was a dreadful Elvis imitator (are there really any good ones?). I remember our doing a "Tribute to Elvis" gig with Larry in Topeka on the day that Count Basie died. You can bet I saw the irony in THAT. But there was money, so...

Dwane eventually came to be interested more in other things, and things ended with a whimper, not a bang. I don't understand: What beats playing the same old songs for the same old people in the same old smoky places, over and over again, and never being paid very well for it? I believe, from a Google search, that Dwane's now into "para-sailing" - jumping out of perfectly good airplanes and sailing to the ground. That's something I would never have guessed.

Mike Wilcox died April 5, 2018, in Lawrence, at the age of 60.


Okay, here's some more music,
recorded at a singles dance at the Lawrence Knights of Columbus..
There isn't a lot of it; we didn't really think of
what we were doing as something to be preserved for posterity!

Pretty Woman - Roy Orbison, sung by Rerun
Mountain Music - Alabama, nice three-part harmony (Rerun, Dwane, and myself)
Danny Boy - one of Dwane's saxophone vehicles; he usually sang this as well, but I guess he forgot on this particular night
Proud Mary - oh boy
Tulsa Time - Don Williams, with Andy taking vocal honors
Slow Hand - Dwane sings lead on this one while the rest of us cut up; sounds like I didn't quite know the song yet
Singin' the Blues - Marty Robbins; Andy yodels!
Under the Boardwalk - the Drifters classic, sung by Rerun
Rock this Town - Stray Cats, sung by Rerun

Here are two pieces of a poster - it was too large for me to image in one piece.
Note the misspelling of "Richmen."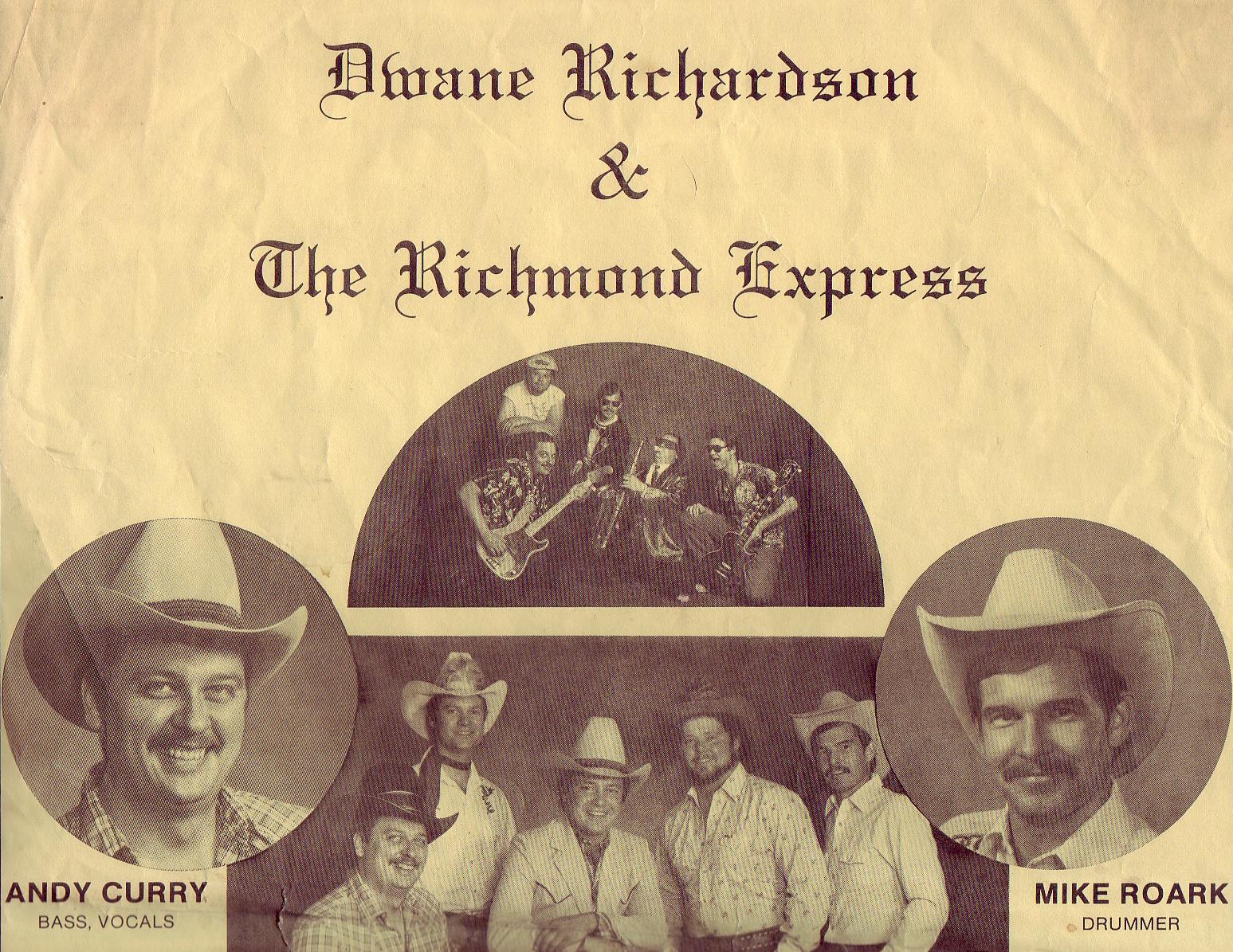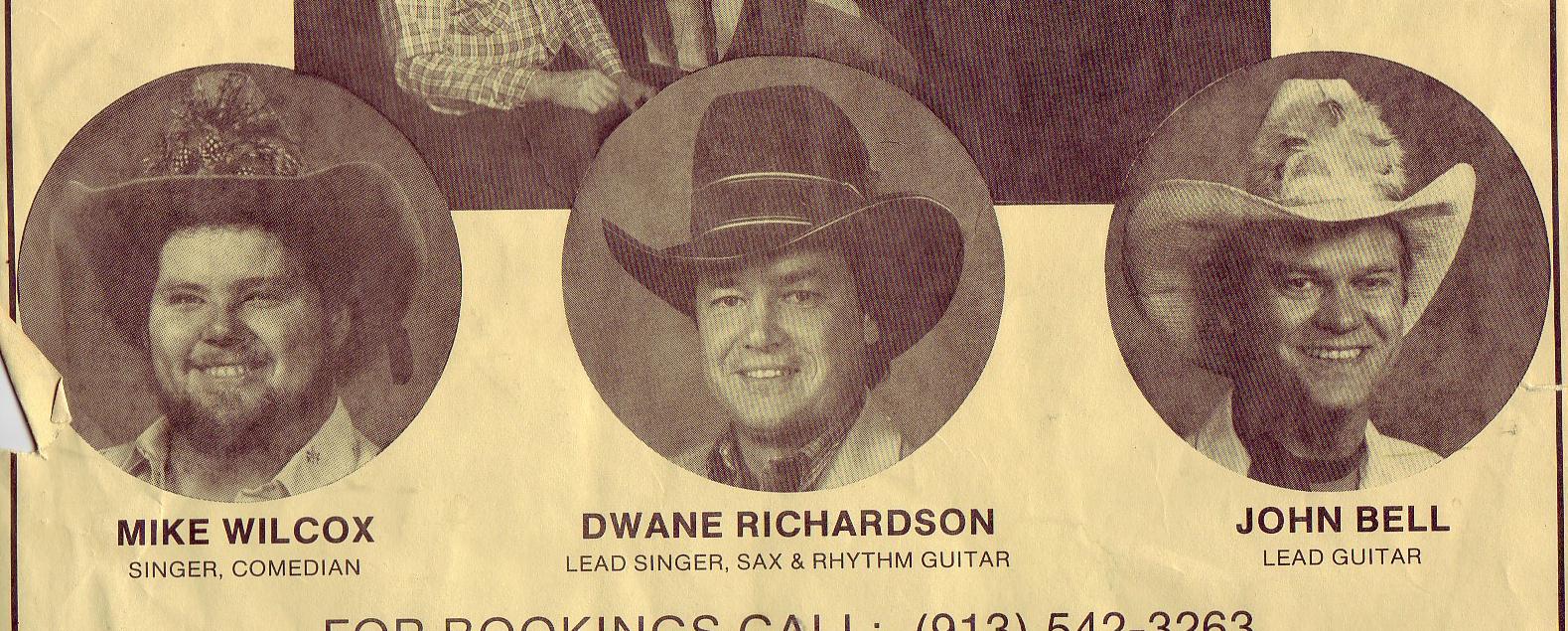 Copyright 2006 by Andy Curry