The Billy Spears Band, 1975-1978 - page 7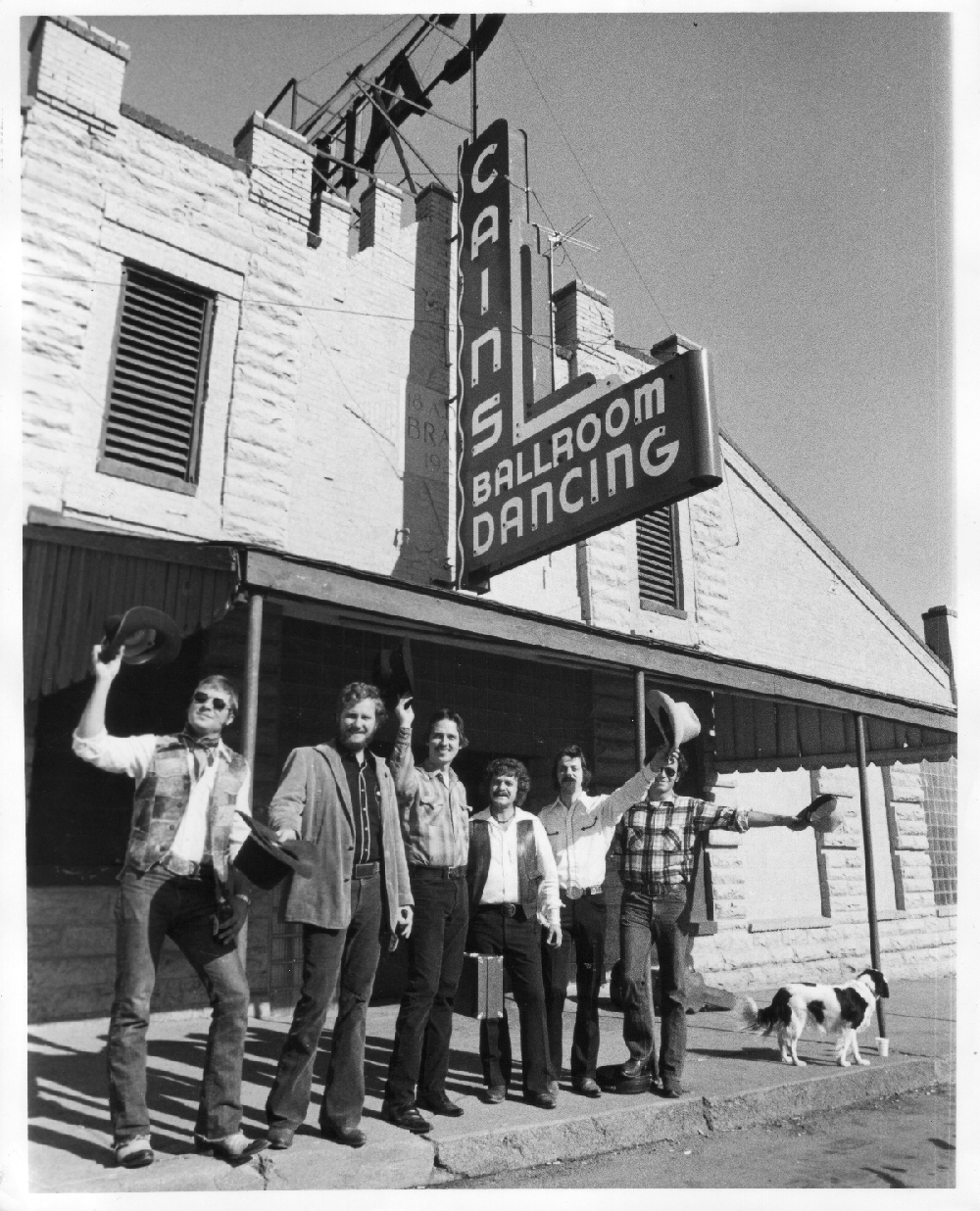 The Billy Spears Band in front of the
Cain's Ballroom
, Tulsa. We played here twice:
Once to warm up for
Asleep at the Wheel
, and once on our own.
It was a great place.
Lining the walls are pictures of the stars of yesteryear who played there,
and it was, I believe, the "home base" for Bob Wills and the Texas Playboys for a number of years.
It boasts "the Southwest's first spring-loaded dance floor."
On one of our appearances, my Uncle John, who lived in Tulsa, brought my grandmother, who lived in Bartlesville, to see us. She wondered what the funny smell was,
and when Uncle John told her it was marijuana, my grandma wanted to know if she could try it.
The dog really makes this photo, dontcha think?
Here are five songs we recorded at Mountain Ears recording studio in Boulder. We were going for a pretty organic sound, and I think we got it. Buddy, for example, insisted that the drums be recorded with just one microphone, overhead. We recorded more songs than these, but these are all that survive.

The story of how we came to possess these recordings is pretty amazing. Here's what Barry Lee, a DJ in the Lawrence/Kansas City area, wrote to me:

"about 2004 or so, kory willis told me that he had a reel to reel tape of billy's he had found when KAW radio was in the basement of liberty hall. i believe someone had indeed thrown it out. he mentioned it to me one day when i was in love garden and i told him i had just bought a studio tascam reel to reel from a studio that went out of business in lawrence. i transferred the tape to cd for him and gave him a copy, and kept one for myself to play on the radio. (i'm a dj at KKFI in KC). "

Ultimately, Billy was contacted and got the tape.

Jimmy Ray Law plays all the acoustic guitar.
Buddy plays all the drums, as well as the mandolin parts.
I play the upright bass.

Below are the only two photos we have of that recording session, both of J.B.

Shine, Shave, Shower - Junior is featured on this Lefty Frizzell number, and we achieve a very nice vintage swing feel, I think. He plays the electric guitar and Bob plays the steel guitar.

Your Name Still Lingers (on My Lips Tonight) - this is a song I wrote, inspired by a phrase uttered by Jimmy Ray when remembering a young woman's charms from nights before. Bob plays banjo and Junior plays steel. I wish someone had told me I didn't have to "put on" a bluegrass twang in my singing. Buddy sings the high harmony.

(Could it Be Your Love for Me Is) Out of Season - Jimmy Ray Law wrote and sings lead on this song. I take the low harmony and Carol takes the high. Junior takes the six-string electric, Bob the pedal steel.

Janet's Tune - an instrumental song that Billy wrote (or borrowed). Junior takes the pedal steel, Bob the six-string electric.

Truck Driver's Queen - a staple song of Junior's repertoire, originally done by Reno and Smiley, I think. Bob plays pedal steel. I take the low harmony, Buddy the high harmony.





Photo-shoot photos
One of the pieces I borrowed from Carol was a couple of contact sheets of an entire photo shoot, taken on a live gig.
One of the wonderful things about the digital age is that you can image a contact sheet and easily enlarge the tiny little rectangles - and they look pretty good!
All of the photos are individual shots. You see "X"s on some, meaning that we chose them for printing.
There are too many to put on this page, so you can click to look at them if you wish.


Houston.
We spent an entire four weeks in Houston, during the Summer of 1977.
It seemed longer than that.
The club we played was nice but not popular, and we never drew a crowd.
It was the time of disco, Urban Cowboy, and the Cotton-Eyed Joe.
On a night off, we all visited a disco, just to see what it was like,
but we couldn't get in unless we took off our hats. We didn't.
We also had a TV spot on one of those afternoon "Around the Town" shows.
Mary Prewitt reminded me recently that the host asked Billy about our schedule,
and Billy's reply was "Well, we're tryin'."
Houston was hot and humid, and the traffic was bad,
reinforcing in my mind my mother's assertion that Houston is the armpit of the U.S.


Our Drummer for a Month: Johnny Moore.


Sometime in late 1977 or early 1978, Bud was stricken with mononucleosis, and the doctor ordered complete rest for a month. What to do? Good musicians who are free to travel immediately and for a specific period of time, especially in as small a community as Lawrence, do not grow on trees.
We asked Johnny Moore, and, luckily, he said yes (or his wife did). I had heard Johnny play jazz from time to time; he played with a childhood friend of mine, Alan Klebanoff, and Paul Miller, and I believe he also played in Paul Gray's dixieland band, and, I'm thinking, the Nairobi Trio, with Paul Miller and Bill Lynch. None of these, of course, were anywhere near full-time things, but they were all high-quality musical enterprises.
We were booked for four weeks in Albuquerque. The first few nights were LONG. Johnny was a really good drummer, but he'd been playing modern jazz so long that we had to teach him to "reconnect" with vintage swing styles (like playing quarter notes on the bass drum) - it's like relearning something you'd forgotten long ago. He did "get it" after a short time and did a fine job.
I'll never forget Johnny's coming up with the best-of-all-time name for a punk-rock band (something new at the time):
PUS
.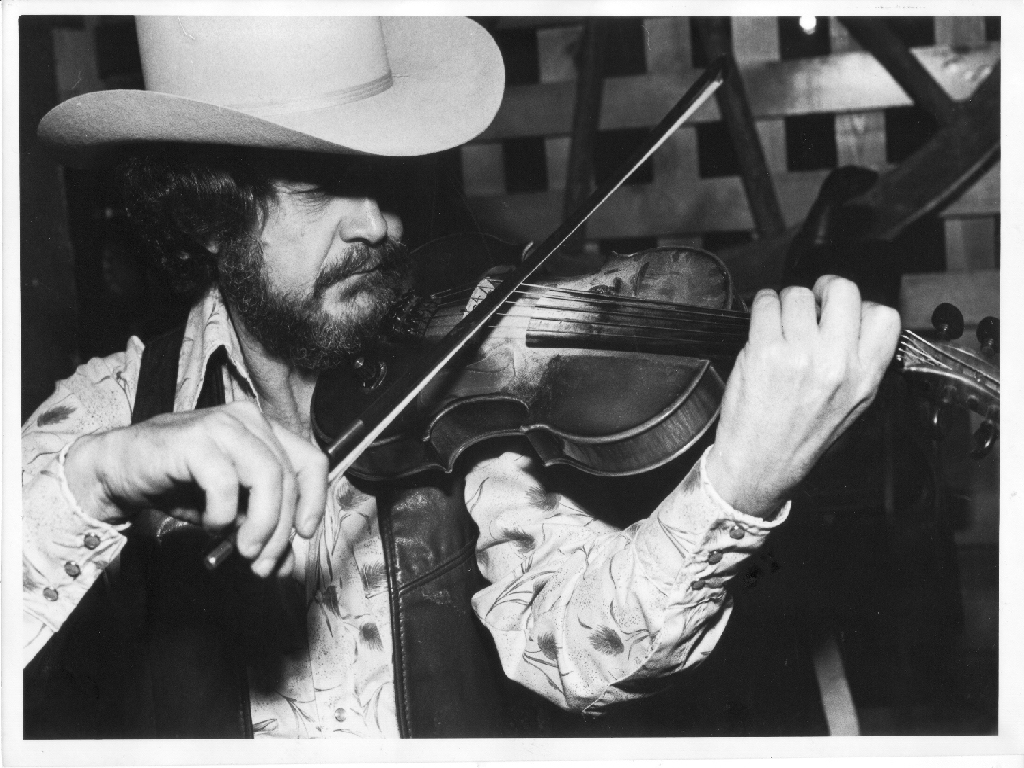 Copyright 2008,2013 by Andy Curry