Cantorial Work
First let me say that I am not an invested chazzan. Rather, I am what is sometimes called a cantorial soloist.


Many people have said "You should become a cantor."

I say, "I'll have to move to New York City and study for five years, with a year in Israel. Who wants to hire an old chazzan?"


But, G-d willing, I do have many good years left.


I became Bar Mitzvah in this synagogue, Beth Tephilath Moses, in Mt. Clemens, Michigan. My mother was not very comfortable with Orthodox Judaism, but it was the only shul close enough to Selfridge AFB, where we were stationed at the time.

I have fond memories of cheder (religious school) with Rabbi Aaron Brander, as well as a girl in the class whom the rabbi always called "Yetta Etta."

I credit this experience with providing the Hebrew fundamentals which have allowed me to grow into loving cantorial work.

Old shul buildings like this one really sing to me, for some reason. It's probably a church now, or perhaps gone for good...



Although I enjoyed the bar-mitzvah experience, I did not set foot in a shul for about 20 years. Not because I hated it, but because my priorities were farmisht.

In 1987, I began attending Temple B'nai Jehudah in Kansas City, joined the choir, and began teaching in the religious school, starting out with fifth-grade Sunday school for three years, and then as the lead music teacher for four more years. There I learned/relearned a great deal from Cantor Paul Silbersher and Rabbi Gerald Kane, may their memories be for blessing. I took up reading Hebrew again.

In 1995, I began leading daily services at B'nai Jehudah, as well as leading Torah-study classes for adults and teenagers.

One thing led to another. Through a referral from B'nai Jehudah, I was asked to lead High Holyday services for the small synagogue (now defunct) in Sedalia, Missouri, in 1995.

The next year, I led those services for Jewish servicemen and their families at Fort Leavenworth. That year I also enrolled in the Florence Melton Adult Mini-School, a two-year program for adults. I completed those studies in 1998.

In 1997, I learned the Torah trope from Cantor David Barash, who was then at Congregation Beth Shalom, a large Conservative congregation, and began chanting Torah portions.

Cantor Barash asked me to serve as hazzan sheini for Rosh Hashanah at Beth Shalom, and I learned the high-holyday shacharit (morning) service through many hours of transcribing and practicing. I davened (lead prayers) that service on the second day of Rosh Hashanah at Beth Shalom.

In 1999, I began davening in the Shabbat Library Minyanim at Beth Shalom. The Library Minyan is an intimate service conducted entirely in Hebrew, with little left out or added; there's a little glass of whiskey afterwards, if desired!

I also conducted Friday-evening and "normative" Shabbat-morning services there many times, several times without rabbinic presence.

I attended Hava Nashira, the annual Jewish-music camp, in 1999 and 2000, rubbing shoulders with Craig Taubman, Danny Maseng, Debbie Friedman, Jeff Klepper, and many others. A highlight of the 1999 camp was a power outage which lasted from Friday evening until we recited the yotzer or ("who creates light") bracha in the shacharit service on Shabbat morning

.

Once during that week, at a gathering of all campers, Craig Taubman handed me his guitar and asked me to sing and teach one of my compositions, "Al Tira Avdi Yaakov" ("Do not fear, My servant Jacob"), which I had sung for him earlier. I knew I wouldn't be able to remember all the words, so I another of my songs, "Thanks, G-d," and it was very well received. Judy Caplan Ginsburgh included it in her "My Jewish World" CD and songbook, which won the 2003 Childrens Music Web Award as the "Best Religious/Inspirational Recording for Preschoolers."





The same year, 1999, I was hired as High-Holyday cantor for the combined congregations of Congregation Beth Shalom in Columbia, Missouri, and the Hillel Foundation at the University of Missouri. I have returned every year since. Those services are interesting and challenging in that we use the Reform machzor for the first day of Rosh Hashanah and Yom Kippur, and Conservative United Synagogue's machzor for the second day of Rosh Hashanah! Note: For the past 10 years or so, Hillel now conducts its own services. In addition, I have been hired several times by parents to go to Columbia and conduct b'nai mitzvah services.


I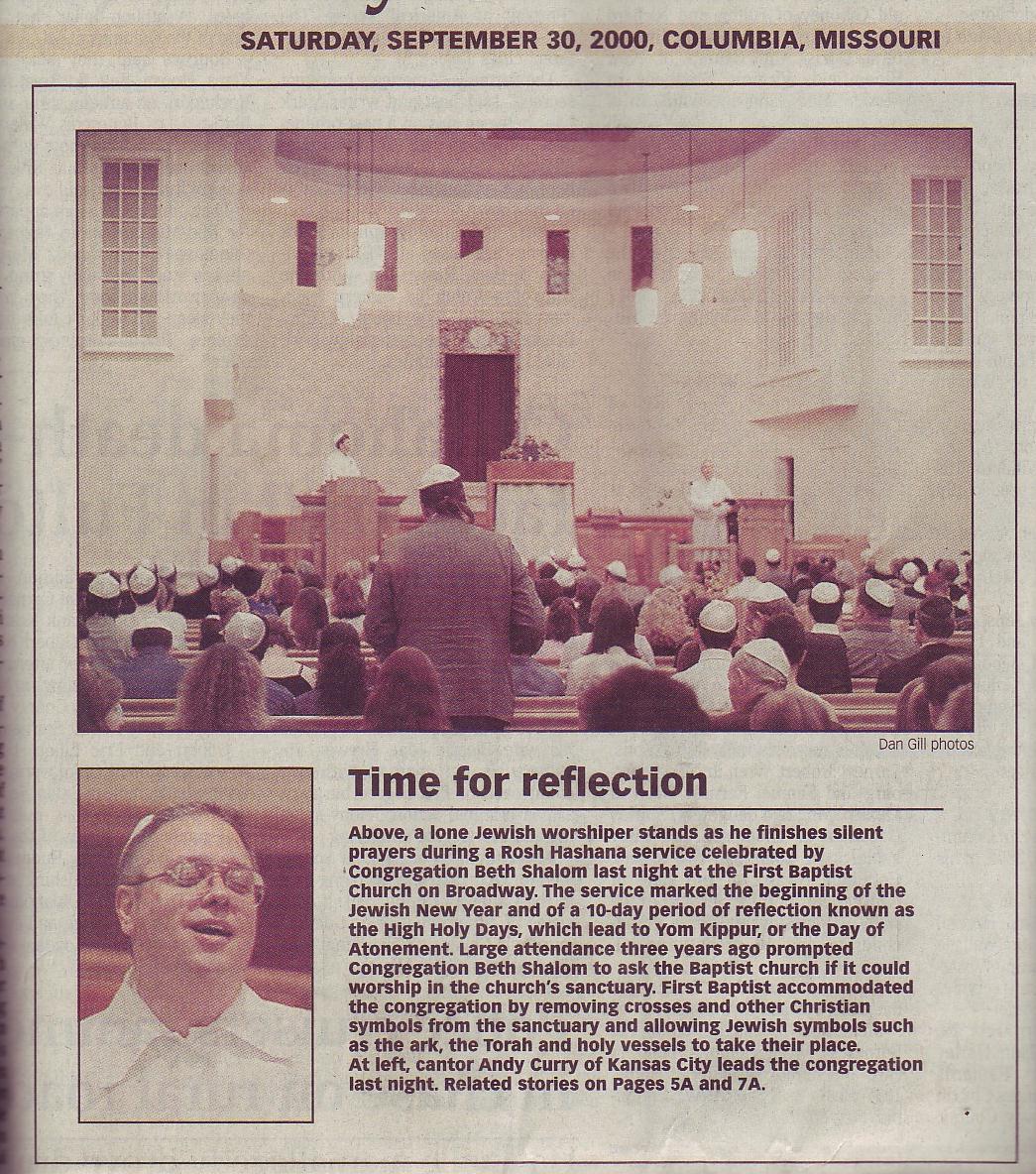 Front page of the
Columbia Daily Tribune
. This was my second year there.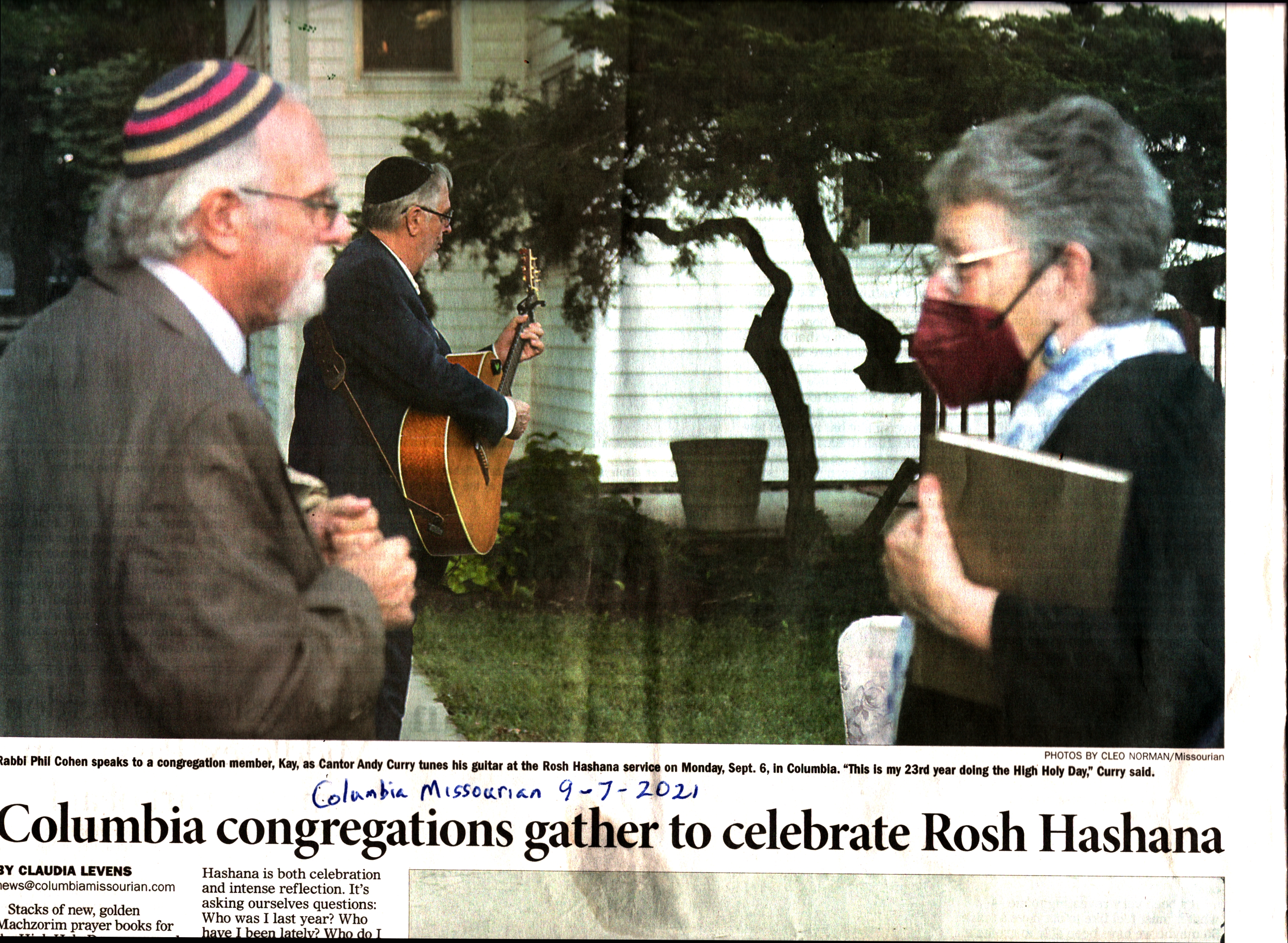 22 years later!
In 2005 and 2006, Rabbi Gil Shoham , now of blessed memory, called on me often to lead services for orthodox Shabbos minyanim at Village Shalom, the Kansas City Jewish retirement community. I also co-led a Passover seder with him and his lovely bride, Sharon [Lowenstein] Shoham, at Village Shalom.

In 2006, I learned the Haftarah trope and read two portions in services, so far. I stood in for Cantor Jeffrey Shron in chanting the sheva brachot for a wedding at Kehilath Israel, Kansas City's "traditional" (orthodox without the mechitza) synagogue.







Escorting the chatan (groom) to meet his kallah (bride). Kehilath Israel synagogue, May 2007.

Like the hat? I do.

Interspersed with all of these synagogue-oriented activities have been many other Jewish-musical ones. For seven years I played bass and guitar, as well as singing and providing arrangements for, the Nigun Orchestra. I was a charter member and board member of Shireinu, the Jewish Community Chorale of Greater Kansas City. During that time I wrote choral arrangements for that group and served as back-up conductor. I have done gigs for retirement homes, Russian-Jewish immigrants, weddings, b'nai mitzvah parties, engagement parties, and civic groups. Sometimes I do these alone, sometimes with my wife, BelleAnne, who is a wonderful singer in her own right. Early in 2006, BelleAnne and I parted amicably with the Nigun Orchestra and formed our own Jewish band, the L'chaim Players, We played for an interfaith gathering in support of Israel, a couple of Purim parties thrown by the Lubavitchers, a few bar-mitzvah parties, and Friday-night services.

We moved to St. Louis in 2007. It's a different scene here. The Jewish community is much bigger - and more fragmented, unfortunately. I have davened daily and Shabbat services at B'nai Amoona, Traditional Congregation (that's the name of it, really), and a few times at Shaare Tzedek (now Kol Ami). I am now the "Composer in Residence" for B'nai Amoona.

Back
Copyright 2006 by Andy Curry